These oversized sneakers with a thick, bulky sole are becoming a favourite of trendsetters everywhere. Causing a complete turnaround from the wearing neat, sleek and clean sneakers, like the Stan Smith.
Instagram and Pinterest are flooded with influencers and models wearing the 'ugly dad sneaker'. And when this trend was adopted by the likes of Bella Hadid, Kim Kardashian, Hailey Baldwin and many others, you know it's gonna be big.
Nostalgia
Many things from the 90s era are having a coming back: bum bags, tracksuits, oval sunglasses, biker shorts and the outfits often oversized. And not only that, a lot of tv shows are coming back too. Let's hope they won't do a new season of Friends or even worse, a reboot.
Where does the term 'dad sneaker' come from?
The bulky shoe with a thick sole is reminiscent of the sneakers that your father wore at the time. Shoes that he wore all the time, to the grocery store, to wash the car, and mow the lawn..
These sneakers are basically the shoes that Ross from Friends and Jerry Seinfeld wore in your favorite tv shows in the 90's .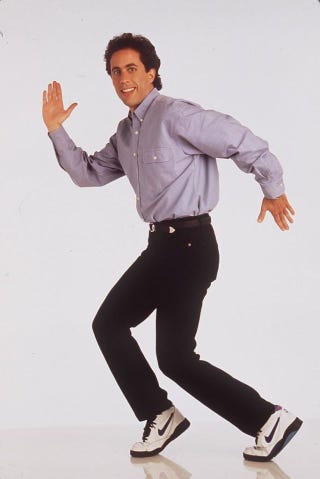 But it's no longer the nineties. It's 2018. And instead of your dad wearing these 'ugly' sneakers, it's going to be YOU.
They're extremely practical and comfortable. Along with their sturdiness and practicality, they can really change up a look. And the thick soles make you look a little taller, which means even more reasons to leave your heels at home. Ugly isn't a bad thing when it comes to this style, things don't always have to be perfect and slick.
If you scroll through your Instagram feed, you'll see photo after photo of trendsetters rocking these clunky and chunky shoes. Well, don't be fooled: Just because they look "ugly" doesn't mean they come cheap. Some of the most liked Insta sneakers by high-end labels like  Stella McCartney, Balenciaga and Louis Vuitton, come with an expensive price tag, up to a 1000 euros.
But don't worry, brands like Nike, Puma, New Balance and Adidas all have chunky and more affordable sneakers in their collection and a lot more of these sturdy dad sneakers are being released on the market.
My current favorite is the Puma Thunder. A sneaker with a nice thick sole, available in different colorways. The Puma Thunder Electric features colored metallic accents.
The Puma Thunder Desert is available in suede and comes with some more neutral and pastel colors and looks more sophisticated because of this.
The mint green Puma Thunder Desert is at the top of my wishlist at the moment.
How to wear  
The dad sneaker is great in any weather or season and they'll go with just about anything. To give you some ideas, here's how I love to style them:
Sporty: for example with nice thick sports socks, a track pants

Simple: with jeans and a t shirt

Sporty chic: with a suit

Super feminine: With dress or mini skirt. Floral prints and flowing skirts. This creates a nice contrast with the bulky sneaker.
Well, I'm totally on board! I'm a '80s kid, and that's why I like this trend! They remind me of the shoes I wore when I was little ;) And am very happy to see that more and more brands are releasing sneakers that are affordable.
What do you think?